When I went to Europe recently, my goal was to travel carry-on only. I didn't want to worry about lost luggage, since my flight wasn't direct. I decided to carry a backpack instead of a rolling luggage due to cobblestone streets in Europe. After some research, I decided to go with eBags TLS Mother Lode Weekend Convertible Jr.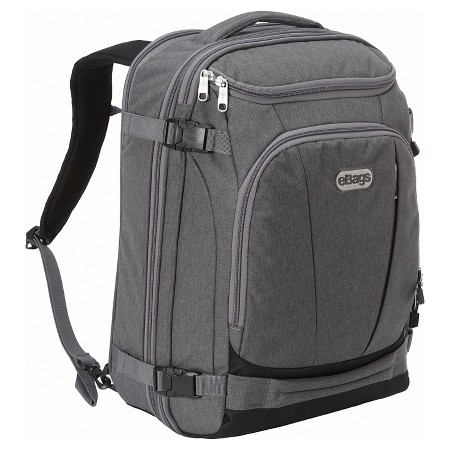 This backpack was great and got the job done. Due to my height of 5'3″, I decided to go with the junior version as I didn't want it overwhelm my frame.
Pros:
Price – The bag retails for $109.99, but you can always find it on sale as eBags normally has some sort of discount 20% – 30% off almost every weekend.
Storage – This bag has a ton of compartments to fit everything into it even a water bottle! I love the pouch on top to store liquids or any other items you need to reach easily. It also opens like a normal suitcase, which made it easier to pack. I do recommend packing cubes for this bag so you can maximize the space in it. Packing folders didn't work me, as it basically tootook up the whole interior.
Warranty – eBags has a lifetime warranty on it, which is pretty awesome. I lost part of my chest straps during my travels. When I got back, I emailed them and was able to receive a replacement within a week.
Cons:
Weight – This bag can get pretty heavy to carry around when you fill it to the brim. I don't recommend this bag for any hikers or backpackers due to the weight.
Hip Belt – It does have a chest belt that works, but I wish the hip belt was better made to help with the weight.
Overall, I highly recommend this bag. For my trip to Europe, I was able to pack a week's worth of winter clothes and more in it. It also fit perfectly as my carry-on item for WOW airline.
Do you travel carry-on?
As always, Happy Shopping!
-C